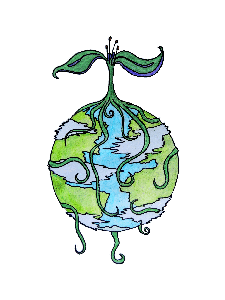 Values and Practices
Our values and practices are inspired from a wide range of people, philosophies and experiences. We hope this listing offers a general orientation for all volunteers, students, teachers and visitors coming to our farm.
Sharing resources, ideas, and experiences:
Dominant attitudes and lifestyles, with an emphasis on possessing or accumulating
resources rather than sharing means that we consume more and waste even more! At the farm, students, teachers, volunteers, visitors are all encouraged to live together and share.
We have shared accommodation, a community kitchen, and open spaces for bringing people together. Living together and sharing fosters a healthy community environment and promotes deeper social and emotional relationships.
Awareness for all:
Our motivation is to reach out to people from very diverse backgrounds. Awareness about food and farming, ecology and environment is not to be confined to any one group since we are, as a global universal family, all affected and we are all stakeholders. However, the focus, impacts and issues that engage different groups are quite diverse. We want our different educational programmes to be designed suitably for different audiences; for schoolgoing children, college and university students, urban consumers, gardening enthusiasts, academicians, local farmers, community leaders, travellers and tourists. We are looking for educators who would like to reach out to each of these different groups by offering practical, effective, and enjoyable courses.
Care for the People and Care for the Earth:
We encourage everybody living on the farm to develop a sense of stewardship and care for the people and for the Earth. All students, teachers, volunteers and visitors are required to take responsibility for farm resources, and encourage collective responsibility. Particularly enthusiastic and committed people with skills and background are welcome to take on specific roles for helping us managing the kitchen, garden, energy, housing, media, community and education programmes.
Holistic Healing:
Food is intricately linked to health and well being. With a strong emphasis on healthy food and living a lifestyle that strengthens one's physical, mental, emotional and spiritual well-being, the farm offers a space for holistic healing. The therapeutic effects on the mind of yoga, gardening, community living, and living in proximity with the natural world has been widely experienced, and we believe it can be a very effective way to deal with many of the stresses arising in today's world.
Learning by experience:
We believe that the most effective way for people to discover themselves and the world around them is through learning by experience. Whereas argument and fact engages only the intellect, an experience engages the senses, body, mind, and spirit in all its entirity. We welcome all teachers and educators who want to offer courses in experiential education focusing on organic farming, permaculture, sustainabilty, biodiversity, forest exploration, soil biology, wildlife, ecology and environment.