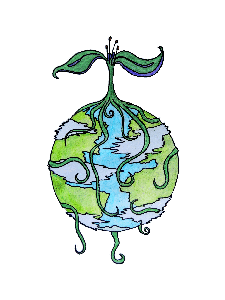 ​
PDC @ HIMALAYAN FARM PROJECT 17-30.09.2019
​
PDC COURSE is Permaculture Design Couse, curriculum is based on the permaculture design manual by Bill Mollison from Australia, co-founder of Permaculture Movement.
72h hours intensive course includes class-room session as well practical.
Course includes at least one design project exercise and need to be fulfil as well all days of course to get awarded with certificate by the end of course.
​
Modules and topics: (some changes possible by teachers, depends of group)
Introduction to Permaculture-ethics and principals, history

Methods of design

Patterns in nature and patterns application

Climate Analysis and landscape profiles, monsoon patterns, climate change

Trees and their energy transactions

Water, grey and black water and water management

Soil: types and soil building, cropping patterns, companion planting, composting, mulching

Waste management

Sectors and zone planning

Climatic factors and design

Agriculture, farm infrastructures, farm forestry, gardening, living fence, windbreaks,
fire control, biomass, organic food production, seed bank, ecological pest management,
animals, importance of bees.
Urban Permaculture strategies, community interaction, marketing

Erosion control of landscape

Natural building

Alternative technologies

Permaculture in India

Practical's: design exercise, compost, soil identification and soil building, cropping patterns, water harvesting and irrigation methods, garden design, urban gardens-pots, forest walks and observation

​
Extra activities: trekking, forest walk, water pool and small waterfall view, muddying, star gazing, bonfire, collecting wood, pine cone and pine wood from jungle depends on rain.
​
Everyday schedule:
7:00-8:00 on some day's breath work, meditation, yoga, stretching
8:00- breakfast, tea
9:00-13:00 theory + practical
13:30- lunch
16:00-19:00 theory + practical, tea
20:00 dinner + bonfire (depends on whether)
​
Our Facilitators are Claudiu Oprea from Europe and Aditi Veena from India
​
Claudiu Oprea is a Romanian born permaculture educator, artist, linguist and chef based in India and Europe. His deep reverence and connection to nature was inculcated by his herbalist grandmother who raised him as a free range child at the foot of the Bucegi Mountains in Romania.
His teaching work and artistic practice are informed by natural systems. The forest is his teacher. The scope of his work is reigniting the connection between humans with nature and the magical kingdoms of plants and fungi with a view to heal and regenerate degraded ecosystems.
Alongside teaching PDC's, Claudiu's heart and current focus is in alternative education. He loves children and over the last 4 years he has run experimental arts and alternative education projects with a permaculture focus in schools in London, Latvia, Hungary, India and Romania.
In January 2018 he was invited to pilot an experimental outdoor edible classroom project following permaculture ethics and principles at Yogi Art Centre in Goa. He set the foundations for an interactive and edible learning space with the kids as co-designers. The outdoor edible classroom is a thriving safe space where soil, highly nutritious plants, natural medicines and trees are nurtured and grown with the stewardship of the kids and the forest as their mentor.
Now in its 3rd season, Claudiu is excited to return in October 2019 to continue the project.
​
Aditi Veena is a trained architect, a permaculturist and an artist based in Goa, India. She believes that good design can lead to abundance; harmony with the Earth and to integration for all in society. She has spent several years working as a conservation architect and in landscape conservation in South Asia. She is the founder of Baag Studio, and is currently helping people design edible gardens and food forests whilst educating them on the same.
Food: Fruits and vegetables will be provided from farm and nearby villages. (Organic). Food will be cooked on open fire and the source of water is natural from hills.
Breakfast: Fruits, porridge, poha, parantha, upma, veg omelette, boiled eggs (will be different everyday)
Lunch: chapati, vegetable, rice, daal, pumpkin soup, salad (will be different everyday)
Dinner: chapati, daal, rice, vegetable, salad, eggs and one sweet dish (will be different every night)
Herbal tea from farm: cinnamon, lemon grass, mint and nettle and normal masala tea.
Accommodation: We sleep in rooms on a wooden floor on mattresses. This over 100-year-old traditional mud and stone house. Extra accommodation will be provided in tents with mattresses, pillow, bed sheet and blanket if required.
And one big mud shala for classes
1 toilet Indian and 2 western and 2 bathroom
Registration Detail: Fee for course is Rs. 23,000 and advanced fee is Rs.5000 which need to be payed until 1.9.2019. Rest Rs.18 000 on day of check in. (There is no ATM available near us and there is no card machine available in farm kindly arrange accordingly)
Your registration is done after payed advanced fee.
Arrival date 16th of September. late afternoon or early morning 17th of September.
Departure date 30th of September evening. We are in hills and we need to trek up to farm through forest around 1h. We are not trekking at night alone, so make sure to come on day time.
Note: We are vegetarian; no meat will be provided on farm. Also using alcohol and drugs on farm and around farm is forbidden. Smoking is allowed out of farm at separate place. Thank you
Thank you,
Your Himalayan Farm Team
Pankaj +91 8954155289
Vlatka + 91 8126723890
​