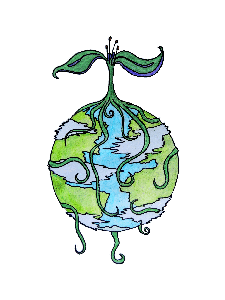 Farm Travel Logistics
The nearest train station is in Kathgodam, from where a bus runs to Do Goan—from there the farm is located at approximately 4 km hike up the mountain.
Once you are in Kathgodam train station, walk out 200 yards to the main Nainital road, from where any bus to Nainital will drop you at Do Goan (Rs. 25/ taxi Rs 70 to 100 single seat and full taxi/ cab Rs. 350 to 400).

At Do Gaon, please go to the small way side tea shop BADRI VISHAL and either ask for the way to the farm or call the farm and wait until one of the volunteers comes to pick you up.
You may leave your baggage (less Valuables) with Chandan at the tea shop, if you like. The baggage can then be brought up by a porter at a charge Rs. 200.
From Delhi:
All International / domestic flights arrive at Indira Gandhi International Airport, New Delhi. A metro line connects airport to New Delhi train station, where one can change metro or for train services.
New Delhi has four major train stations; Delhi, New Delhi, Hazarat Nizamuddin and Anand Vihar. Trains to Kathgodam are generally booked well in advance, hence plan reservation in advance. Foreign tourists are allowed train berth bookings up to 120 days in advance of travel dates. You may book on Makemytrip.com or Indian Rail site IRCTC.
Indian railways have some special facilities for foreign tourists as under:
http://www.railwayreservation.co.in/tag/irctc-facilities-for-foreign-tourists
There are three trains from Delhi to Kathgodam.
1. Train #15013 Ranikhet Express leaves Old Delhi train station at 10.40 pm and reaches Kathgodam early in the morning at around 5.15 am (most convenient).
2. Train #15035 Uttarakhand Sampark Kranti Express leaves Old Delhi train station at 4.00 pm and reaches Kathgodam at around 11.00 pm ( Most inconvenient).
3. Train #12040 New Delhi —Kathgodam Shatabdi Express, leaves New Delhi Train Station at 6 am and reaches Kathgodam at 12:15 AN ( a bit inconvenient for leaving Delhi but very convenient for arrival at Kathgodam).
From Dehradun / Rishikesh and Haridwar:
1. Train #14120 Dehradun—Kathgodam Express, starts from Dehradun at 10.50 pm and from Haridwar at 12.20pm. It arrives in Kathgodam at 7.10 am, after an overnight journey.
From Kolkata / Godakhpur (Entering India from East or from Central Nepal):
1. Train #13019 Bagh Express departs Kolkata (Howrah Jn) at 9.45 pm and reaches Kathgodam after 36 hours at 09.30 am.(two nights on the train). If one is reaching India from Central Nepal, this train may be boarded at Gorakhpur at 5.40 pm. The train can also be boarded at Lucknow Jn at 12.01 pm. This train is invariably late due to long route and 35 halts en route.
Kathgodam is last train station. Haldwani is 6 km short of Kathgodam.