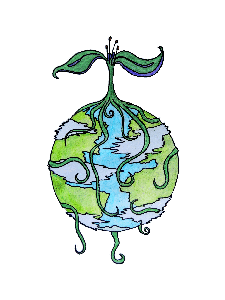 Introduction
The Himalayan Farm Project is an experiment to demonstrate a sustainable life in practice. It is an attempt to learn how to recycle and harness natural, sustainable resources, live a simple off grid life and how to reduce our carbon footprint.
The farm has been had been vacant and unattended for over a decade and has slowly been brought back to life. We started clearing the bushes and under growth from October 09, 2011. It has been a large undertaking and is done with great intention and love. The land is in constant progression, and has slowly regained soil fertility. It grows crops of turmeric, spinach, clover, barley, buckwheat, peas and many other plants not only for harvesting and consumption but also to create a greener manure output as well as greens for the compost to add nitrogen in the soil. The regeneration of soil is a top priority.
The Himalayan Farm Project is more than just an organic farm. The uniqueness of the project comes from the fact that the farm is completely off-grid and the fact that people come from all over the world to make it completely self-sufficient and sustainable. At the very heart of it is the belief that working as a community boosts happiness. We are a community farm – a work and family in progress. We welcome anyone who has time and energy to make the farm their home and bring with them a positive attitude, creativity and a love for nature. Everyone is welcome – to pick up the hoe – to mend the canal – to sing songs– and to tell us how to do this better.
The Himalayan Farm Project is the place to perfect how to make an omelette over an open fire, to practice poi, to teach old skills and acquire new ones and to simply be one with the surroundings around you. It is a home away from home for all. This is a place to retreat, rejuvenate, learn, share but above all else BE.
The Himalayan Farm Project is led by a team that values love, unity and a desire to learn. Anyone interested in building up this community and in helping recover and rediscover nature is welcome to join us. The longest staying volunteer performs the duties of the Farm Steward and coordinates daily routine and specific activities. The Farm has only two paid employees.
During the past 48 months of its existence, we have cleared bushes from more than half the farm land, which was abandoned for 16 years. Besides farming and enriching soil we have spent a lot of time building our basic infrastructure, installing a water system and making a green house. We ran a rammed earth workshop on the farm during the summer of 2012 and built our library. In winter of 2013, we set up our solar plant which provides us with all our energy needs. During May - June 2013, we held our first ever permaculture design course. We also put up 6X1000 litre water tanks at different heights and laid over 4 km of water pipe lines to get enough pressure for drip irrigation, which is yet to be installed.

We are also clearing the land for more planting and try to make life up there more comfortable. We have planted a number of fruit trees including peach, lemon, lime, mango, guava, jack fruit, fig, pomegranate, kafal, etc during the last monsoon / winter.