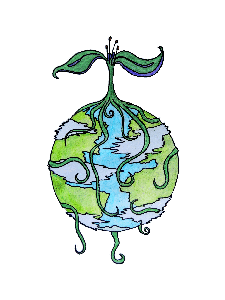 Location and Environs
The Himalayan Farm Project is located in the foothills of the Kumaon Himalayas, in the Sivalik hills in the state of Uttarakhand.
We are in Village Raila, about three kilometers away from the nearest roadhead in Dogaon, a small settlement with a few roadside shops and teastalls, located on the Haldwani-Nainital road. Our nearest rail head is Kathgodam and Haldwani is our nearest city, 26 km away.
To reach the farm, one has to hike uphill through the forest for about one hour from Dogaon. We are surrounded by forest on all sides, and we are at the very top of a hill of altitude 4863 feet. The forest is predominantly pine with a wide range of fodder and wild trees. Broad leaf mixed decidous trees are prominant near the seasonal streams on the way to the farm.
Our nearby villages are Dogaon, Dolmar and Chopda. The local language is Kumaoni and Hindi is widely spoken. We are part of the Gram Panchayat and Van Panchayat of Bhujia Ghat.
Our main community building is a central gathering space that combines food for the body (the kitchen and dining area) with food for the mind (library, teaching space, seed bank, and internet). We have a mud cottage for teachers and stewards, and a 100-year old traditional farmhouse which is the primary accommodation space. We also have plenty of space for pitching tents. Our broad terraced fields are the main growing area, and our smaller terraces have plenty of fruit trees. There is a temple shrine at the top of the hill, a place for meditation and contemplation, from where one gets remarkable views of the Nainital-Bhimtal hills and the Gaula river.
The calls of barking deers, leopards, and nightjars are constant reminders that we share our habitat with many beings.
Click to see our location on the map.
Weather:
October to March is the best season on the Farm. Oct - Nov is mild winter. During the months of Dec to mid Feb, mornings, evenings and nights are cold, but days are generally warm and sunny. Mid Feb to March end is a small spring season. From April it starts becoming warm. Mid June to mid Sep is monsoon season.
A view of the hills from the farm.