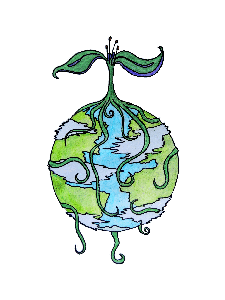 After experiencing forest fire twice during the stay of more than 4 years, we have decided to stop the fire at least in our part of the range and bring solutions and set examples for others.
Conserve one of world's most important forests-Himalayas to sustain nature's diversity, benefit our climate, and support human well-being

The beauty of Himalayas from Great to Suptropical inspire us to stand for it. We know forests are home and habitant for many living beings.

Threats to Himalyas forests are growing. We are doing our best to explore most of reasons for deforestation. In degraded forests, small trees, bushes and plants often are severely damaged and erosion of land is increasing from year to year. We witnesses big floodings because disbalance in Himalyas Forests.

To restore a forest that will thrive for generations into the future. Every detail must be planned and adapted over time.
So we are doing 1-year diploma "Regenerative Design by Permaculture ways. And our topic is "FOREST" to restore forest, reforestration and most importantly to prevent forest from fire.
"Forests provide for the Earths oxygen and in turn sequester carbon, this one action manages climate, water, soil and even biodiversity to support life systems."

The Earth cannot afford to lose its Forests and biodiversity. We know well, that if this happens, the tipping point of no return of earth systems would perhaps be imminent. We believe that's it's important that us inhabitants of the Earth, join hands and work towards its care. We need to connect and work


Creating nursery for sapling for coming monsoons season.
Collecting seeds from forest. In last year monsoon (2021) Mostly all the plants were brought from local nursery and then trekked up to farm by walking 3.5 km. Which was a difficult task. So now we are making our own nurseries instead of bringing plants from out side.
We are creating a model of reforestation in burned land of Himalayan Farm Project which in forest fire. In 2021 monsoon we planted more than 600 different plants, bushes, scrubs.
We are doing identification of small, big trees, bushes, scrubs, grasses, tubers and medicinal plants.
Collaboration with
Give me trees trust.
Sadhna Forest
Plant a Tree, don't be a stump.

Deforestation can disrupt the lives of local communities, sometimes with devastating consequences. Forests provide a vast array of resources to all of us, including food, wood, medicine, fresh water, and the air we breathe. Without the trees, the ecosystem that supports the human population can fall apart.

Forest trees and other plants soak up carbon dioxide from the atmosphere and store it away as they grow and thrive.
When it comes about forests, The forest urgently needs all of us to do 3 most important things.
Stop deforestation.

Sustainably manage forests so that they can continue to benefit human, nature, and wildlife.

Restore forest land where we can.
​
Though in some places it can be hard to restore the diversity of life and benefits of a native forest, restoration of forest will still provide important services for locals, nature, and the rest of the world.

Very few projects are there who focus on bringing an entire forest back to life. Forest restoration is very slow and expensive. To restore a forest, that will continue for generations into the future each detail is important and must be planned and adapted over time. Restoration requires mapping and analysis of big part of the forest to determine smaller area to prioritize. Locals have to be involved so that restoration experts understand their needs, challenges, and long-term goals for the land. Locals and forest scientists work together to develop a vision that identifies and supports alternative livelihoods, improves farming or sustainable forest management practices, and engages Forest Department as parts of the planning process. It means lots of hard work with lots of people, but it's all essential for forest restoration.
We intend to set up an organisation and collaboration with another organisations:
Job creation: to train locals for firefighting in forests

Job creation: for vigilant forest rangers

Simple and practical solutions: involving the local community, the forest dept and the govt. for a long-term solution to stop forest fires

Ecosystem restoration combined with human benefits: Clarity on the identity of the trees and other plant species of the samora range - their ecosystem functions, potential value in the local community, and use in fire prevention and re/a- forestation.

Demonstrate: the regeneration of the forest land surrounding our farm, & make it resilient to natural & man-made calamities

Regenerate the village forest land: to bring back the burnt down forest ecology that would have degraded because of fires in the past.

Compost waste/and recycling: this would drastically reduce the incidence of fires being set by the regular burning of waste build demonstration sustainable homes to house volunteers and to carry out trainings

Eliminate deforestation threats: We are in our 1st stage most important now is to STOP FORESTS FIRE